My name is

Barbara Nicholson Bell

,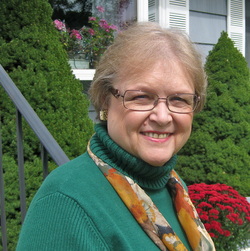 and I created this website to give collectors helpful information on antiques and collectibles in one convenient place. Turn to The Wise Collector for in-depth articles on vintage, retro, Americana, fine art, and ephemera; look for tips on buying and selling your antiques; read about fraud protection, as well as identifying reproductions and fakes. My 40+ years of experience as a collector, a dealer and a writer about antiques can now benefit you as well, whether you are new to the field or are an "old hand".


---
Check out The Wise Collector's Random Thoughts, wherein the Wise Collector finds herself randomly recording her thoughts on collecting, gardening, current events, her parenting skills or lack thereof, her favorite and not-so-favorite things. Maybe, occasionally, a recipe.


So You've Caught the Collecting Bug!
As you frantically try to squeeze one more pair of salt & pepper shakers onto a groaning shelf, you mutter to yourself, "I swore I wouldn't buy any more - but I couldn't help it!" Garage sales and flea markets are your chief entertainment. Your children know the price of the first Marvel Comic or lunchbox in your collection. You've stripped and refinished every piece of Great-Aunt Martha's dining room set.
Any of this sound familiar?
I have been collecting china, art pottery, books and other lovely bits of history for several years. Each piece is, to me, a direct link to the past, to the person who made it and to those who owned it before me. I feel connected to my own ancestors when I hold a silver spoon or open an old book, knowing I am the third or fourth generation to appreciate and enjoy it.
Because I love learning the details about my antiques, I began researching - at the library and the bookstore at first, and then as a natural progression, to the Internet. If you are the curious owner of antiques or a collector of memorabilia, you probably have done the same thing.
There are countless websites available to us as resources - and here at
The Wise Collector
, you'll find an easy jumping-off point. In future articles I will talk about one or two subject areas with websites specifically recommended to help you learn more. Have fun!
---

Web Hosting
by iPage. The copyright of the articles in The Wise Collector is owned by Barbara Nicholson Bell. Permission to republish any articles herein online or in print must be granted by the author in writing.